Webinar by Belz Family & Associates: China "On the Ground" Series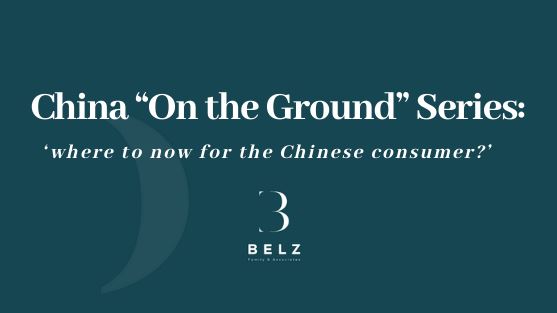 "Coming out of the first major wave of COVID-19 in China, what is the current mindset of the consumer in China? What significant early trends are being observed ?"

As COVID-19 continues to place enormous pressures on the Western World, we are seeing the China domestic market gradually reopen over the past week. The reopening of the market has significant implications for global trade as well as potentially revealing a path forward from the crisis for the rest of the world.

Belz Family & Associates (BF&A) is dedicated to providing regular insights and webinars to their members and broader community in relation to what is happening on the ground in China. They have invited some of the most influential thought-leaders on China to provide true 'street level' investment and business insights. It is believed these insights may provide the pathway to incredible investment opportunities and China and the globe emerges from this period.

The first edition in their series will give you insight into the Chinese consumer, trend and behavioural changes.
---
Date
Friday, 27th March, 2020
2 PM Australia EST, 11 AM Beijing Time
---
Host

Jonathan Belz
Managing Partner -BF&A

- Founded BF&A in 2019 after previously Investment Manager, China Strategy for Victor Smorgon Group
- 12 years IB experience with Goldman Sachs and Credit Suisse in Sydney, New York, Hong Kong and Shanghai.
- Previously Founded & Co-Chairman of ACBC's Future Leaders Group, Melbourne
- Fluent in Mandarin, passed HSKVI in 2014
Panelists


Max He
CEO, Edaili Group
- Forbes 30 under 30 in China
- Built one of the fastest growing fintech in China over past five years
- Edaili is a Unicorn company with last valuation of 2bn
- Deep undestanding of both wholesale and retail investor trends and patterns in China



Will Zhao
CEO, ECargo Holdings Limited
- Leading authority on cross border e-commerce and traditional retail channels in China
- ASX listed online to offline enabler in China
- Previously led the strategic development and execution of MetCash Asia's business in China, including CBEC and wholesale/distribution network


---
Also, you may scan into their WeChat Community group to receive more details for the webinar directly in the group, and receive access to regular insights and commentary on what BF&A are seeing in the Australia and China family office community.