Let us help you deliver your message through affordable and effective promotions via our online channels to a uniquely diverse set of business focused customers. AustCham Shanghai membership consists of Australian companies based here and abroad as well as other nationalities doing business in China and Australia. We also have a larger network of non-members who maintain an interest in AustCham Shanghai and its activities by staying engaged in our online channels and communications.
Our website is an excellent channel to promote your products and services. Often the first contact point for people entering Shanghai and Greater China, the AustCham Shanghai website is a vital hub for information exchange and communication. It is a key reference point for people seeking information and news about Australia-China business, events and issues.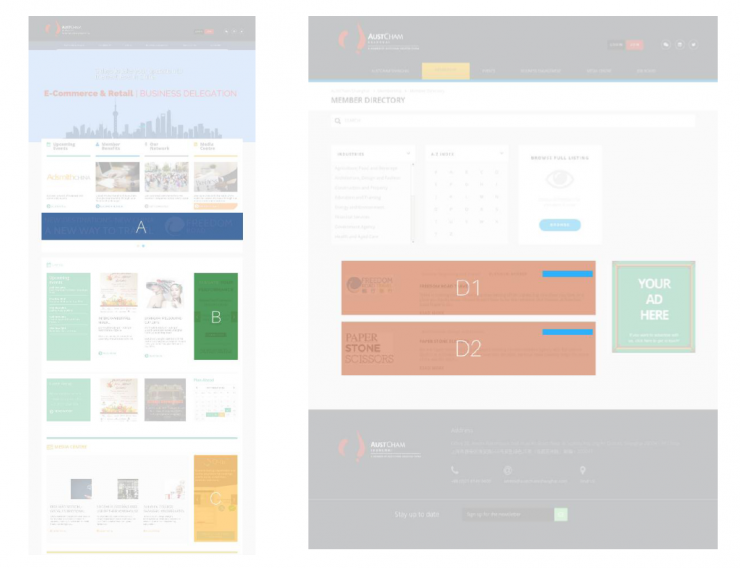 (A) Full-width banner, homepage, 1092 W * 152 H pixels
(B) Upper vertical banner, homepage, 250 W * 514 H pixels
(C) Lower vertical banner, homepage, 250 W * 514 H pixels
(D1and D2) Promoted Member spot in our Member Directory
eDM Direct is a quick, effective way to connect with AustCham Shanghai members and the broader Australian and Chinese community. Whether you have a one-time promotion or would like to spread more awareness of your products and services, you design and brand it your way and we'll deliver it directly to our full database of more than 6,000 email subscribers.
We are committed to helping you and your business grow and prosper so we're open to discussing other unique ways to advertise on your behalf. To learn more about advertising opportunities and rates, please feel free to contact our Senior Marketing and Communications Manager Sophia Moeller at Sophia.moeller@austchamshanghai.com or +86 21 6149 0600 ext. 210.