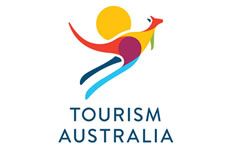 Government Agency
PLATINUM MEMBER
Tourism Australia
Tourism Australia (formerly The Australian Tourist Commission) is an Australian Government Statutory Authority established in 1967 to promote Australia as an international tourism destination. We market Australia internationally to create a sustainable advantage for our tourism industry for the benefit of all Australians.

Our principle objectives under the Australian Tourist Commission Act 1987 are to:
-Increase the number of visitors to Australia from overseas
-Maximise the benefits to Australia from overseas visitors; and
-in meeting these objectives, work with other relevant agencies to promote the principles of ecologically sustainable development and raise awareness of the social and cultural impacts of international tourism in Australia.

Tourism Australia is jointly funded by the Australian Government and the tourism industry. Working with the private sector and State and Territory tourism authorities, the Tourism Australia's activities include television, print and electronic advertising, public relations and information programs, and the coordination of Australian industry participation in international trade events. The Tourism Australia also plays a role in product development and retail travel agent education programs as well as providing input into Government and industry policies that affect tourism.
UNLOCK
Get access to the full member contact details by joining AustCham Shanghai. Full member information includes the corporate representative, phone number and street address.