22 March | MD Lunch with Bank of China Shanghai Branch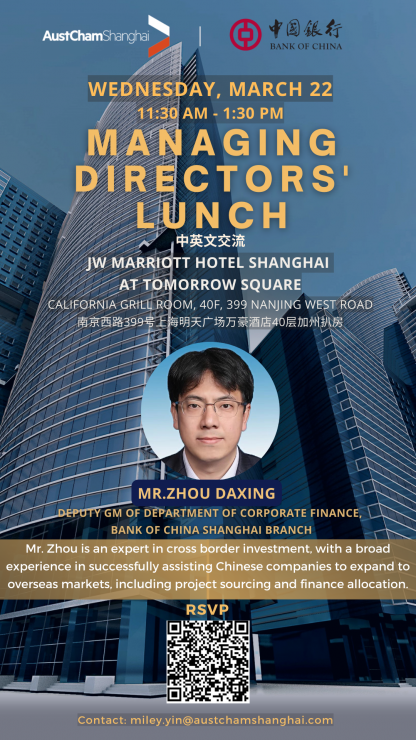 Join us on Wednesday the 22nd of March for an exclusive Managing Directors' Lunch with Mr. Zhou Daxing, Deputy GM of Department of Corporate Finance, Bank of China Shanghai Branch.
Date
Wednesday, 22 March
11:30 am - 1:30 pm
Venue
JW Marriott Hotel Shanghai At Tomorrow Square
California Grill Room, 40F, 399 West Nanjing Rd
南京西路399号上海明天广场万豪酒店40层加州扒房
Price
Member: 450 RMB
Member Only Event
RSVP via email to
miley.yin@austchamshanghai.com
This is an excellent opportunity to network with senior decision makers within the Chamber. Seating is limited, so if you are interested to attend, we would appreciate if you could please RSVP as early as possible and we will approve each invite upon order.
Interested in Sponsorship?
The AustCham Shanghai Managing Directors' Lunches provide a unique opportunity for brand exposure within Shanghai's executive community. Reach out to us if you are interested in becoming a sponsor. Contact:
miley.yin@austchamshanghai.com.