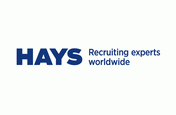 Hays Specialist Recruitment
Hays is the leading global specialist recruiting group. It is the expert at recruiting qualified, professional and skilled people worldwide. Hays operates in the following countries: Australia, Austria, Belgium, Brazil, Canada, Colombia, Chile, China, the Czech Republic, Denmark, France, Germany, Hong Kong, Hungary, India, Ireland, Italy, Japan, Luxembourg, Malaysia, Mexico, the Netherlands, New Zealand, Poland, Portugal, Russia, Singapore, Spain, Sweden, Switzerland, UAE, the UK and the USA. We operate across the private and public sectors, dealing in permanent positions, contract roles and temporary assignments.

We are market leaders in Asia Pacific and the UK and one of the market leaders in Continental Europe and Latin America. As of the 31st January 2014, we employed 7800 staff operating from 240 offices in 33 countries across 21 specialisms. Our deep expertise across a wide spectrum of specialized industries and professions makes us unparalleled recruiters in the world of work. Hays has been in Asia for more than a decade, and operates across 10 local offices in China, Hong Kong, Japan, Malaysia and Singapore.

UNLOCK
Get access to the full member contact details by joining AustCham Shanghai. Full member information includes the corporate representative, phone number and street address.