Webinar | COVID-19 - How Brands Can Respond to New Consumer Behaviours
Are you seeking strategic brand advice during the COVID-19 outbreak? What are the consumer behavior impacts we should expect to see in the coming weeks and months?
To hear this and more, tune in to AustCham Shanghai's upcoming webinar on Thursday 26 March with Jessica Miao, Founder & CEO of United Media Solution (UMS) and Mark Tanner, Managing Director of China Skinny. We will discuss and share changes in consumer behavior we may expect to see, trends and implications for marketing strategies and subsequent strategic brand advice.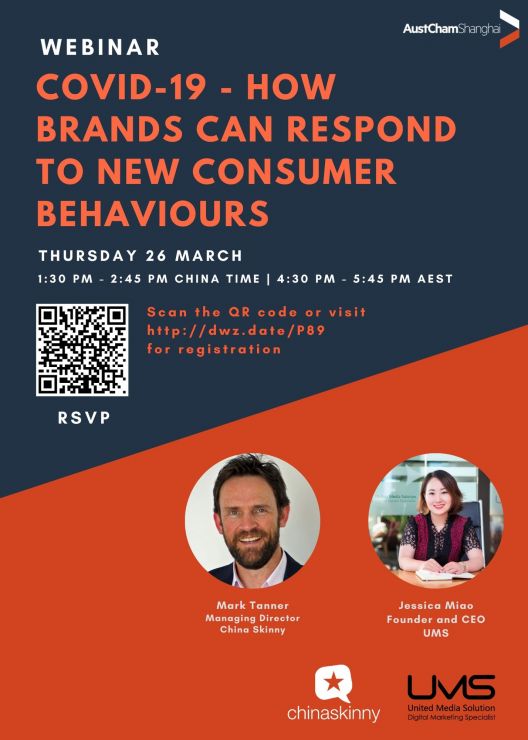 ---
AGENDA:
1:30 PM - Jack Brady, CEO of AustCham Shanghai | Welcome

1:35 PM - Mark Tanner, Managing Director of China Skinny | Consumer behaviour as a result of the virus & trends and implications for marketing strategies
2:00 PM - Jessica Miao, Founder & CEO of United Media Solution (UMS) | Strategic Brand Advices
2:25 PM - Q&A
2:45 PM - Webinar finishes
---
SPEAKERS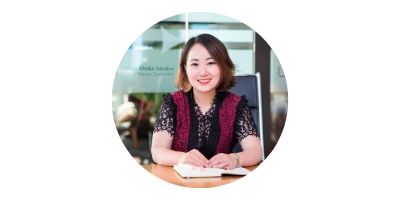 Jessica Miao
Founder and CEO, United Media Solution
Jessica is Chief Executive Officer and Founder of UMS. Based primarily in the Ningbo office, she is responsible for the overall business and frequently travels between UMS' offices in Auckland, Melbourne, Ningbo, Shanghai and Sydney to oversee all aspects of the business, maintain relationships with staff and clients in all markets and represent the company on an international level.

As the founder of UMS in 2011, Jessica identified a need to help foreign businesses to navigate China's complex digital landscape and connect with Chinese consumers through digital and social marketing communications. Drawing on her media and digital marketing experience, she has grown UMS into a leading international business and has built a strong reputation as an expert on marketing in China with regular invitations to speak at business and trade events in China, New Zealand and Australia.

Jessica graduated from the University of Canterbury (New Zealand) in 2007 with a Bachelor degree in Mass Communication / Media Studies and completed a postgraduate diploma in Film/TV/Media Studies at the University of Auckland. She held media roles at Fairfax Media, Ningbo Daily Media Group and a social media role with Kea New Zealand. Jessica has been honoured with a number of awards including: Young Entrepreneur Award in 2012, Young Entrepreneurs of the Year in 2013 and 2014. She was also recognised in The Zhejiang Top 100 Innovative Women in 2017 and named a Top Ten Young Tech Entrepreneur in 2018.

She speaks both Mandarin and English and has significant skills in Strategic Marketing, Social Media and Digital Marketing.
Mark Tanner
Managing Director, China Skinny
Mark Tanner is managing director of China Skinny. He has provided China-market growth strategies and research to around 200 brands including Nike, Tourism Australia, Colgate, Reckitt Benckiser, IKEA, Woolworths, Coles, SAIC Motors and IHG. His views on China have been quoted in more than 200 international media outlets including Bloomberg, Reuters, FT, WSJ and Forbes, where he is a columnist. Tanner authors the most-read newsletter about marketing to China and is a regular keynote speaker addressing audiences around the globe. Prior to moving to China, Mark rode his bike across Canada solo in the middle of winter, hunted for ancient viking treasure in Iceland and led the first unbroken journey from the source of the Blue Nile to the sea.

---
Register HERE, or scan the QR code below.