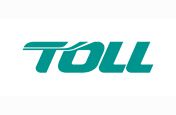 Logistics and Supply Chain
Toll Global Forwarding (China) Ltd
International freight forwarding and advanced supply chain management services. Toll Global Forwarding provides a comprehensive suite of international freight forwarding and advanced supply chain management services. Our service offering ranges from complex supply chain solutions through to port-to-port freight forwarding movements. Headquartered in Hong Kong, we have a worldwide network of more than 120 offices in 30 countries throughout Asia, Europe, North America, Africa, Australia, Zealand and the Middle East.

Toll Global Forwarding's core services include:
-Air Freight - our specialist air freight teams are equipped to offer a fast, reliable and cost-effective service.
-Ocean Freight - our global network provides a complete range of sea freight services to meet any import and export requirements.
-Sea-Air - when ocean is too slow but air is not needed, our Sea-Air solution combines the advantages of economy and speed.
-Customs Clearance - we offer a complete menu of customs brokerage services including border control formalities.
-Supply Chain Services - Toll Group specialises in each segment of the supply chain. Toll Global Forwarding specialises in integrating these services to provide a single offering to our clients, providing a seamless execution from placement of international purchase order through to delivery to store/site/point of consumption.
-Project Services - we offer a broad specialised logistics solutions on a project basis, from feasibility studies and export quality inspections to supply chain consultancy and network optimisation.
UNLOCK
Get access to the full member contact details by joining AustCham Shanghai. Full member information includes the corporate representative, phone number and street address.