Webinar Training | Using Behavioural Economics to Improve Strategic Decisions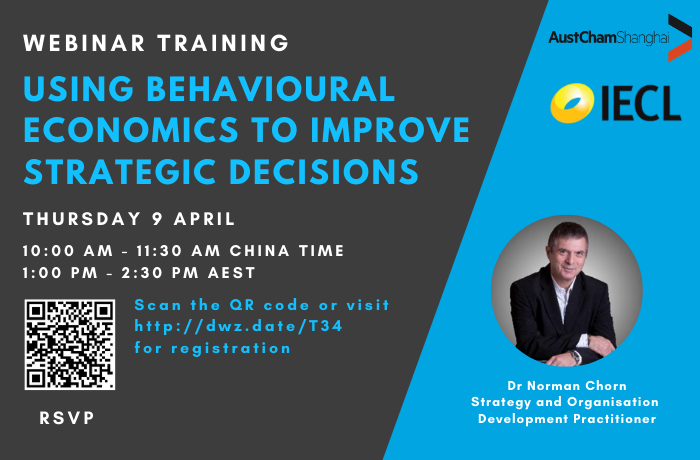 The growing influence of behavioural economics has significantly changed the way we understand strategic decision-making. Behavioural economics has used insights from neuroscience to change the way we view traditional economics — and the way this may be applied to decision-making.

To learn more about the above, join our member-only online training program on Thursday 9 April with Dr Norman Chorn, a strategy and organisation development practitioner who works across Australia, UK, New Zealand and South Africa and founder of The BrainLink Group.
---
AGENDA:
10:00 AM - Welcome | Mike Cheung, Senior Relationships Manager of AustCham Shanghai
10:05 AM - Presentation | Dr. Norman Chorn, Strategy and organisation development practitioner
11:05 AM - Q&A
11:30 AM - Webinar finishes
---
KEY TOPICS:

Key insights from behavioural economics
- How markets really work
- How people make decisions
- How people manage themselves
The common myths in decision-making
- How much information is required?
- Do experts know best?
- The 'law' of averages
- Uses and misuses of intuition
- Humans are rational in seeking solutions
How to improve the quality of strategic decisions
- The optimal stopping point
- Using AI and algorithms
- Using new information to update the probability of a future event
- When to use intuition
- Recognising and mitigating non-conscious bias
---
SPEAKER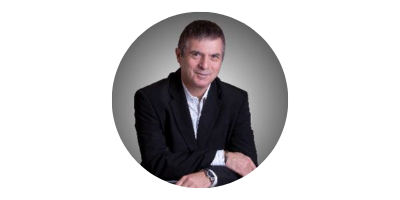 Dr Norman Chorn
Strategy and organisation development practitioner
Norman is a strategy and organisation development practitioner who works in Australia, UK, New Zealand and South Africa. After leaving a leading consulting firm, Norman founded a strategy and research firm with affiliations in UK and North America.

His work integrates the research from neuroscience with economics and strategy. It addresses:
• Strategy in highly uncertain environments, using various approaches such as scenario planning and neurostrategy
• Organisation development – designing and developing innovative organisations
• Growth and corporate resilience – achieving growth and adaptation.

Norman has particular skills in developing future strategy and aligning organisations with their cur- rent and future environments. His integration of neuroscience and strategy principles (neurostrate- gy) has enabled the development of a range of proprietary techniques and approaches to achieve an enhancement in organisational performance.

Norman has published widely in his field and has contributed to a range of journals and in- ternational conferences. His recent book, Strategic Alignment, has received acclaim in the man- agement and business press and the 2nd edition has just been published. His new book, The Fu- ture Builders deals with the practices of creating the future and organisational adaptation in uncer- tain environments. This is due for publication shortly.

He holds visiting and associate appointments with a number of leading Graduate Schools of Man- agement, including Macquarie University (Australia), the University of Pretoria - GIBS (South Africa) and Canterbury Graduate School of Management (NZ).

Prior to his consulting career, Norman held a variety of senior Marketing and General Management positions in the services and manufacturing sectors.


He has a BA (Economics and Sociology) from the University of Cape Town, a Postgraduate Diplo- ma in Management, an MBA, and PhD from the University of Witwatersrand.

Norman is also an Ambassador for Thought Leaders Global.