Webinar | Celebrate International Women's Day
Join Wesa Chau, CEO of Cultural Intelligence, and recently appointed advisory board member for the National Foundation for Australia China Relations, as she discusses the importance of cultural diversity in leadership. Wesa will share her personal stories and use them to highlight dimensions of cultural diversity in her personal leadership style. What is unique about her leadership as a young Chinese-Australian woman is her in-depth appreciation of culture and understanding of how it impacts people's behavior in the workplace.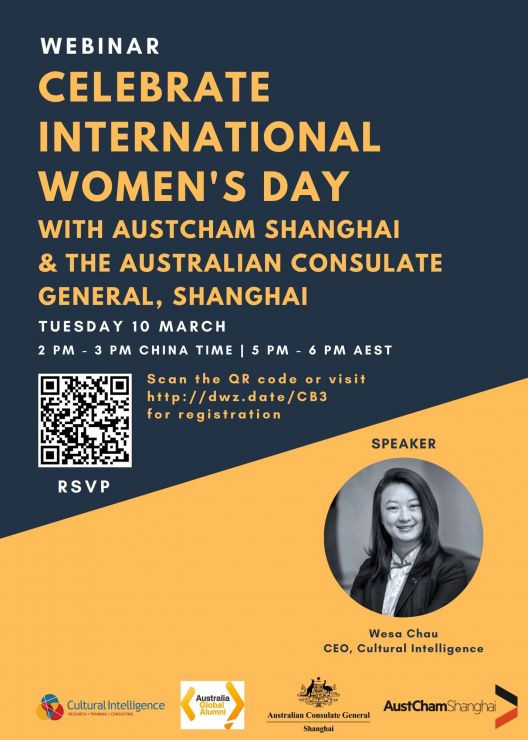 ---
SPEAKER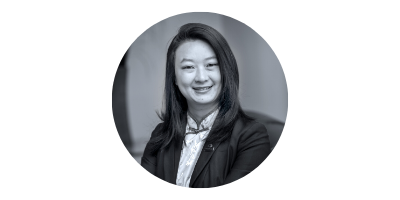 Wesa Chau
CEO, Cultural Intelligence
Wesa is CEO of Cultural Intelligence, a consulting company specialised in raising the understanding of the power of cultural diversity through research, training and consulting. This includes developing training programs for organisations to understand cultural diversity and its impact on their work especially in management and leadership.
Her career started working with international students and has held senior manager positions and is currently appointed to the National Foundation of Australia-China Relations and Victorian Ministerial Council for Womens' Equality. In research, she explores topics ranging from Asian diaspora in philanthropy, leadership, cultural diplomacy and business, cultural diversity and politics. She worked on a number of ground-breaking research, including International Cultural Engagement among Australians of Pacific Islands and Asian Descent and Asian-Australian Diaspora in Philanthropy.
In addition, she was the inaugural fellow of the Scanlon-Swinburne Intercultural Fellowship (supported by DFAT), travelled to India and Malaysia working with academics and government officials to better understand diversity and in India and Malaysia and understand what Australia can learn from it. In 2017, Wesa was invited to be a delegate on the Australia-China High Level Dialogue alongside senior political leaders such as Hon Julie Bishop, the former Foreign Minister and Senator the Hon Penny Wong, Shadow Minister for Foreign Affairs, Australian senior business leaders and diplomats. In addition to that she was a delegate of the Australia-China Youth Dialogue and Australia-India Youth Dialogue in earlier years.
Wesa has received several awards for her contribution to the community. In 2016 she was awarded the prestigious Victorian International Education Internationalisation Award in recognition of her work with international students for more than a decade. In 2013 she was the Australian Leadership Awardee from ADC Forum and named Young Victorian of the Year in 2010. In 2006 she received the Victorian Multicultural Commission's Award for Excellence in Service Delivery to Multicultural Victoria.
Her tertiary education encompasses engineering, marketing, law, management and governance. She is a current PhD candidate researching on the topic of political skills.
---
SCHEDULE
14:00 pm - Opening|Ali Groch
14:05 pm - Welcome Remarks by Deputy Consul|Katrina Harrigan
14:10 pm - Keynote Speech|Wesa Chau

14:40 pm - Q&A|Ali Groch

15:00 pm - Event Closes|Ali Groch
---
Register HERE, or scan the QR code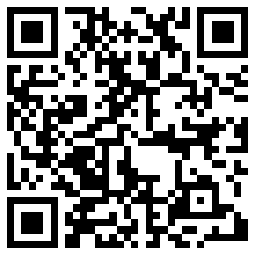 A confirmation email will be sent to you with information on how to join the webinar once you have registered successfully. Please be kindly noted this is a member-only webinar.