Understanding China's VAT System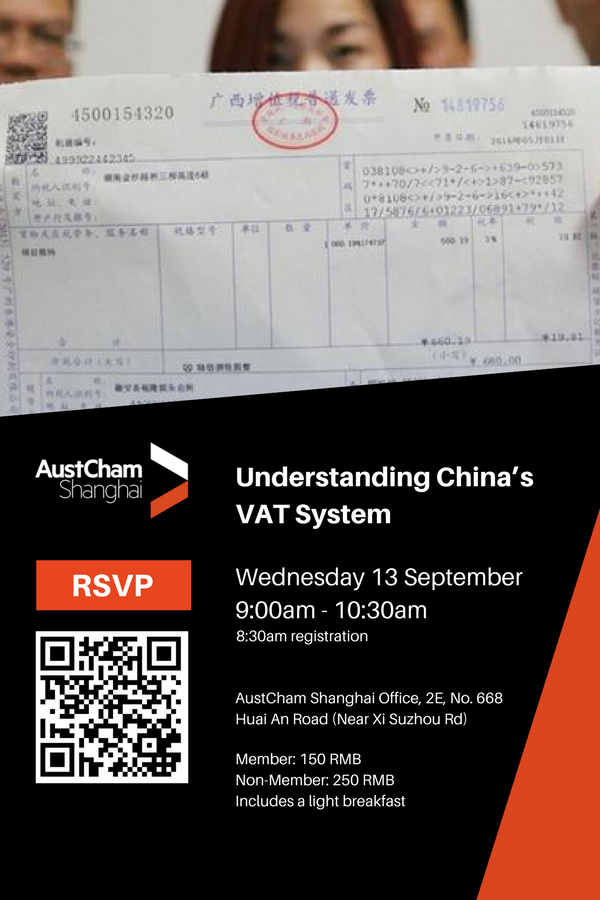 Though the Value-Added Tax (VAT) reform was fully implemented as China's only indirect tax in May last year, perfection and streamlining of the system is still underway.
Over the past year, the China tax bureau has implemented a series of regulatory changes aimed at streamlining and simplifying the VAT system, including new software and reporting programs. While the VAT system now more closely aligns China's tax system with international standards, it still maintains some unique characteristics and complexities.
Vivie Wei, Business Development Manager from Vistra, will elaborate on the major updates to VAT reform in 2017 from both the practical and administrative perspective.

*Fapiao: Please fill out the fapiao info form here: https://www.lediaocha.com/pc/s/5hsrdg. Please note that reception of the fapiao may take up to 7 working days after the event.

Cancellation Policy

Please note that if you need to cancel this booking we must receive your RSVP cancellation by email or fax no less than 48 hours in advance of an event, unless another specific cancellation date/time is notified in the event details. The Chamber will have to charge you full-price for the event if you do not cancel your attendance by the stated time. This is necessary to cover costs automatically incurred by AustCham Shanghai for events on registered attendees' behalf.