Training: Search Inside Yourself-Emotional Intelligence Program for Leaders
"Google's Insanely Popular Emotional Intelligence Course"– Search Inside Yourself: Emotional Intelligence Program for Leaders
Are you a business leader wanting to improve your influence and effectiveness?
Are you a business leader wanting to heighten you and your team's focus to enable clearer decision-making skills?
Born and practised at Google along with numerous global companies such as SAP, Ford, American Express, Genentech since 2007, Search Inside Yourself is a two-day emotional intelligence program for leaders and other professionals. It is based upon neuroscience research and teaches attention and mindfulness training that build emotional intelligence skills that lead to focus, creativity, resilience, positive mindset and centered leadership. It focuses on practical, hands-on methods for increasing clarity, improving decision making, reducing your stress and increasing creativity.
In this training, you will learn how to:
-Increase resilience and adaptability in the face of challenge
-Improve your creative and innovative thinking
-Achieve personal and professional alignment
-Develop greater self-awareness and emotional regulations
-Improve your communication skills
-Develop better decision-making skills
Who should attend?

-Senior leaders that seek to improve influence and effectiveness
-Senior managers that seek to heighten individual and team's focus to enable clearer decision-making skills
-HR directors that seek to cultivate a sense of happiness and unified meaning that permeates the workplace

Agenda on both days:
08:30 Registration
09:00 Morning Session Starts
12:30 Lunch Break
14:00 Afternoon Session Starts
17:30 Session Ends
Language: Bi-lingual translation English to Chinese (simultaneous translation)
Session outline: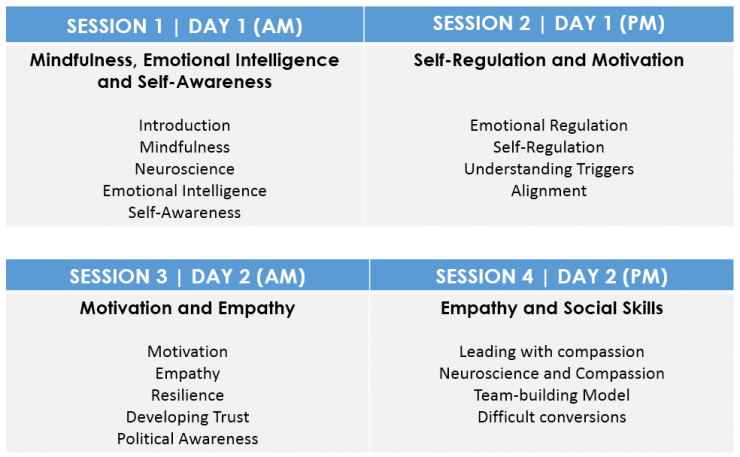 Registration:
Limited seats available, please email Ruby Yu if you'd like to register.