Tickets on Sale | Australia - New Zealand Community Awards Gala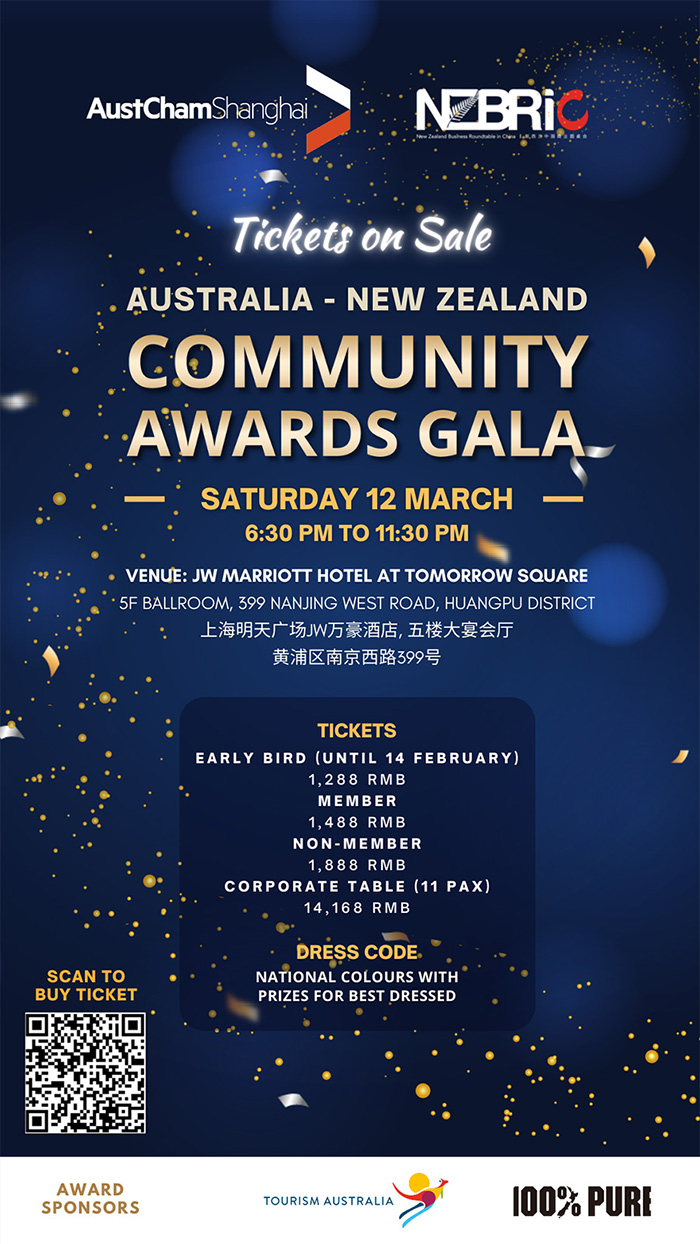 AustCham Shanghai and NZBRIC are thrilled to invite you to the highly anticipated Australia - New Zealand Community Awards Gala on Saturday, 12th March 2022.

This evening gala will be an opportunity to come together, be entertained, enjoy dinner and drinks and celebrate our community during a time when people would typically travel home to their families. We want to recognise the fantastic contributions of individuals and businesses to our wider community with the highlight of the event being an awards ceremony. With seven different award categories covering a diverse range of contributions, this event will give praise to the wonderful efforts of our community members.
---
Date: Saturday, 12th March
Time: 6:30 PM to 11:30 PM (CST)
Venue: JW Marriott Hotel at Tomorrow Square, 5F Ballroom
399 Nanjing West Road, Huangpu District
上海明天广场JW万豪酒店, 五楼大宴会厅
黄浦区南京西路399号
---
Tickets on Sale until 14th February 2022
Early Bird (Until December 24th)
1,288 RMB
Regular AustCham Shanghai or NZBRIC member price (From15th February)
1,488 RMB
Non-Member Price
1,888 RM
Corporate Table Price (11 pax)
14,168 RMB

Please note, if the event needs to be canceled, a full refund will be provided minus the 3% service charge collected by the registration platform. No refunds if guests decide to cancel. Tickets are sold on a first come first serve basis.



Award nominations are open until the 7th of January 2022. Don't miss this great opportunity to recognise individuals for their outstanding contributions to the community. Click here to learn more.


As a sponsor, the Australia - New Zealand Community Awards Gala offers your company quality exposure across a high-value demographic of expatriate and local attendees, while also emphasizing your company's contribution to the community and CSR initiatives.

Your company will have naming rights to the award of your choice, and your organisation's logo and name will be extensively displayed throughout the event and in any corresponding media and promotion.

For community members, we urge you to save the date to attend one of the best community evenings of the year, bringing together those of us in the Australian, New Zealand and China community.

If your company is interested in sponsoring one of the award categories, please contact Anna-May Isbey at Anna-may.Isbey@austchamshanghai.com.
Click here to download the sponsor deck