Regulatory Update: The End of Animal Testing on Imported Cosmetics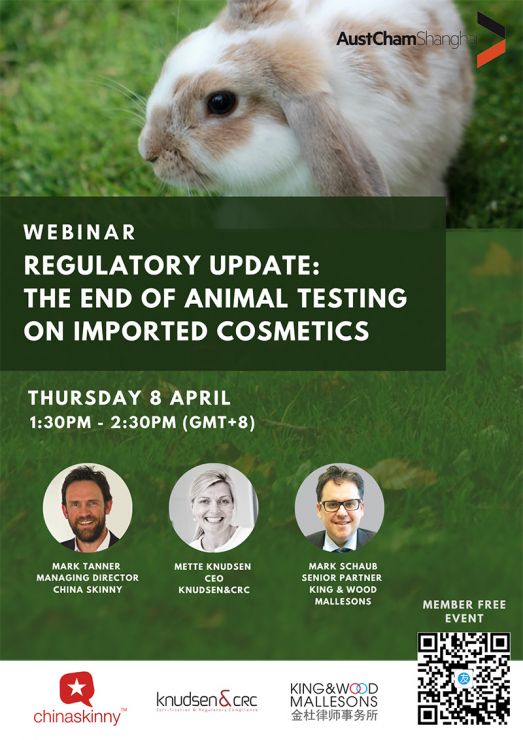 Mandatory Animal Testing for imported cosmetics is coming to an end. From the 1st of May, animal testing is no longer required on general cosmetics imported into China if they meet the requirements set out by China's NMPA (National Medical Products Administration).

AustCham Shanghai is excited to host a webinar analysing this important regulation change with China Skinny, Knudsen&CRC and King & Wood Mallesons.

We will have three great speakers to talk about this particular topic– Mark Tanner (Managing Director at China Skinny), Mette Knudsen (CEO at Knudsen&CRC), Mark Schaub (Senior Partner at King & Wood Mallesons).

Don't miss out on this opportunity and RSVP NOW! Once registered, the webinar link will be sent prior to the event.

---
SPEAKERS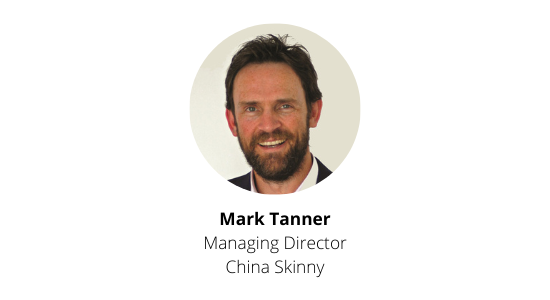 Mark Tanner is the founder and managing director of Shanghai-based China Skinny, one of China's best known marketing and research agencies. China Skinny has delivered research, strategy and trends analysis for more than 200 international brands including Nike, IKEA, Panasonic, Colgate, Reckitt Benckiser, Tourism Australia, Woolworths, Coles and IHG. China Skinny publishes the most-read weekly newsletter about marketing to Chinese consumers. Mark has been quoted in more than 200 international media outlets including Bloomberg, Reuters, FT and Forbes, where he writes a regular column.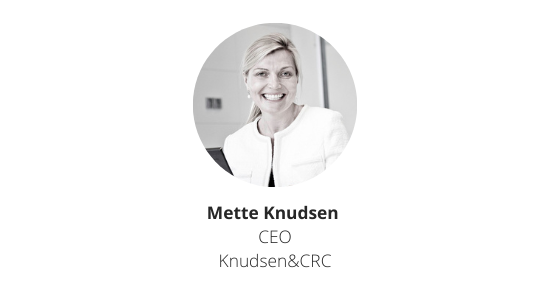 Mette Knudsen is managing the Certification and Regulatory Compliance team at Knudsen&CRC, Shanghai. Mette holds a PhD. in International Trade and Government Regulations (Phd. Econ), and a Master of Economics.
Knudsen&CRC provides certification solutions within health food, medical device, and cosmetics – and offers regulatory advice for imported general food, infant formula, organic certifications, pet-food, alcohol, and more. During the last decade, the Knudsen&CRC team has assisted more than 300 foreign companies and brands with regulatory compliance advice, or has been appointed as responsible agent for product registrations or certifications. In 2018, Knudsen&CRC partnered with Cruelty Free International and Oriental Beauty Valley on bringing Leaping Bunny certified cosmetics into China without animal test.
Mette Knudsen has been working in China for more than a decade. She was first appointed as Consul for the Danish Government assisting companies in navigating on the highly regulated Chinese market. Later, she established Knudsen&CRC with the objective of providing hands-on advice on how to overcome regulatory barriers in China. Mette Knudsen has extensive working experience with highly government-regulated markets from countries such as Egypt, US, Mexico, and the former Baltic countries. In addition, Mette has been teaching International Trade at Copenhagen Business School, University of Copenhagen, Cairo University (Egypt) – and published in various papers/books on the Economic and Financial Effects of Trade Barriers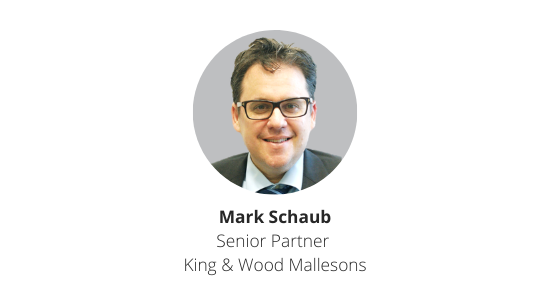 Mark Schaub specialises in foreign direct investment, M&A and restructuring in China. He has advised on foreign investment projects in all major sectors in China with a cumulative value exceeding USD 20 billion. He is familiar with China issues faced by companies of all sizes and is a trusted advisor to many companies ranging from family owned businesses to Fortune 500 companies. Mark is global co-head of our consumer practice.

Mark Schaub has worked as a lawyer in Shanghai since 1993. He was the first foreign partner to join our China firm in 2000. Prior to this, he worked in well-known German and American law firms in their Shanghai offices. He has been consistently awarded Asia Law's "Lawyer of the Year" for corporate work and appears in many guides such as Chambers. Since August 2018 Mark has been splitting his time between London, Frankfurt and Shanghai.

He is also the author of the following books "China: the Art of Law – Chronicling deals, disasters, greed, stupidity and occasional success in China" (CCH) and "China Strategy – Entry, Operation and Exit" (Wolters Kluwer). He is currently working on "All I Want is Everything" a book on the Chinese consumer.

Mark speaks English, German, and Mandarin.