CANCELLED - Profits to Paradise: Repatriating from China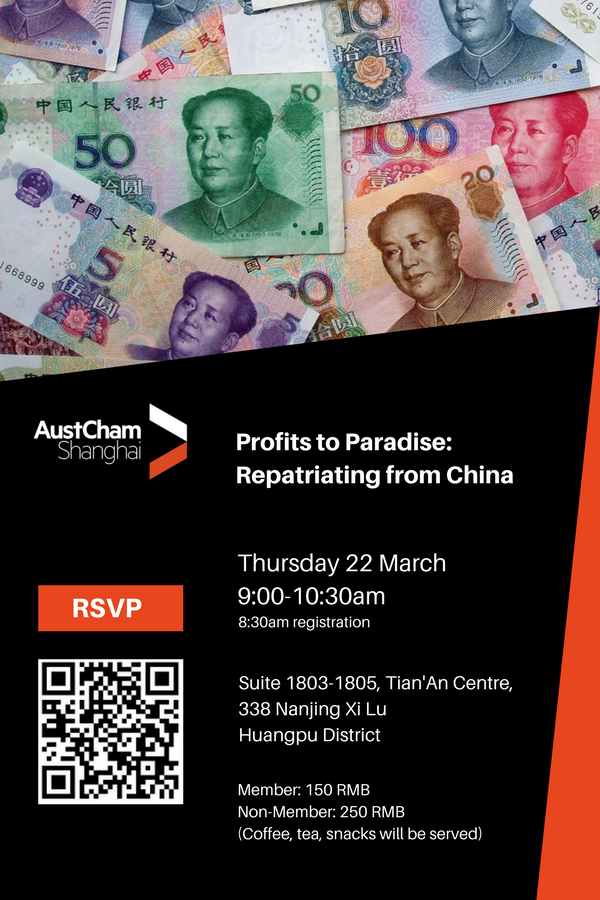 We are excited to host Paul Dwyer, Head of Dezan Shira & Associates' international tax and transfer pricing practice, as he talks on outbound payments and profit repatriation in China.
China has remained a complex market when it comes to issues regarding outbound payments and foreign exchange controls. For WFOEs operating in China, it is imperative to understand the strictly regulated system that governs profit repatriation and how best to tackle repatriation issues. With the People's Bank of China recently issuing new outbound payment regulations to reassure foreign invested companies, there is no better time to delve into the complexities of this topic and how it impacts Australian businesses.
This event aims to provide a platform for understanding the common issues regarding outbound payments and help foreign invested companies better develop profit repatriation strategies.
*Fapiao: Please fill out the fapiao info form here: https://www.lediaocha.com/pc/s/5hsrdg. Please note that reception of the fapiao may take up to 7 working days after the event.
Cancellation Policy Please note that if you need to cancel this booking we must receive your RSVP cancellation by email or fax no less than 48 hours in advance of an event, unless another specific cancellation date/time is notified in the event details. The Chamber will have to charge you full-price for the event if you do not cancel your attendance by the stated time. This is necessary to cover costs automatically incurred by AustCham Shanghai for events on registered attendees' behalf.