Professional CPR & First Aid Course (Members Only)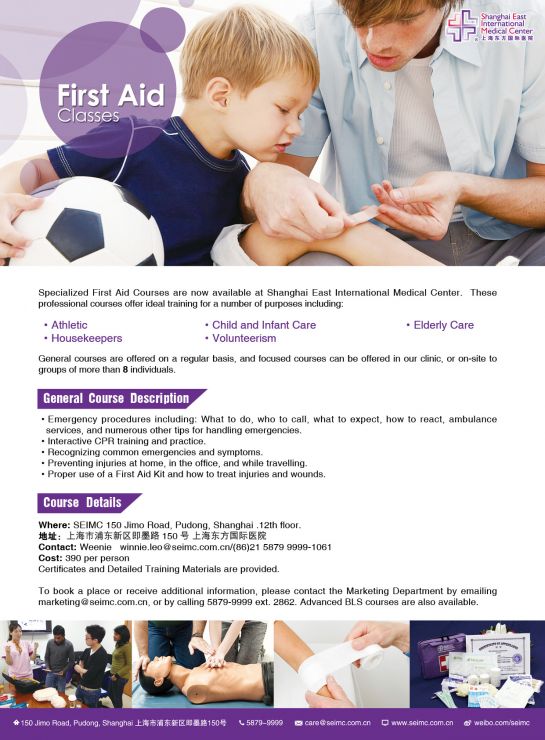 Being prepared for emergencies can make all the difference in life-threatening situations. AustCham Shanghai, in conjunction with Shanghai East International Medical Center, invites you to attend a professional CPR & First Aid training session.
The training provides practical experience from a qualified trainer, using highly interactive methodology that will ensure that you are ready to handle an emergency situation.
This event is members only. Discounted price at RMB 350 is provided. RSVP is required. Please send email to chenyu.ling@austchamshanghai.com.
Cancellation Policy
Please note that if you need to cancel this booking we must receive your RSVP cancellation by email or fax no less than 48 hours in advance of an event, unless another specific cancellation date/time is notified in the event details. The Chamber will have to charge you full-price for the event if you do not cancel your attendance by the stated time. This is necessary to cover costs automatically incurred by AustCham Shanghai for events on registered attendees' behalf.
About the Shanghai East International Medical Center
Staying healthy and fit easily gets overlooked, especially in the hustle and bustle of everyday life. To remind everyone about the importance of good health, Shanghai East International Medical Center regularly joins expatriate groups and organizations in Shanghai for informative health talks and presentations. Talks may also be held at Shanghai East International Medical Center. Many groups find this alternative very convenient as it allows group members to tour the facility. A large number of topics can be offered including:
Breast Cancer Awareness
Maternity Care
Women's Health
Traditional Chinese Medicine
Healthy Living
Pediatrics and Children's Health
Workplace Injury Prevention
Emergency Preparedness