Nanjing Event - Salary Guide and Visa Update Seminar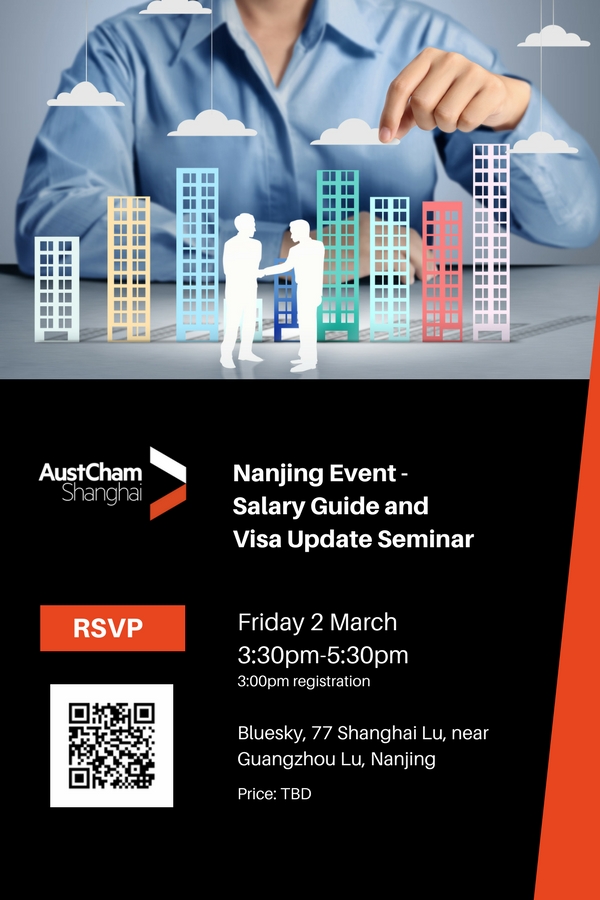 Topic one: Salary Guide
The Salary Guide is a report published by Hays every year compiling the results of a survey of their candidates and clients across the Asia region. Besides an extensive salary grid detailed by function, roles and industry, it also shows the main trends that are set to happen in various industries and the 6 countries Hays operates in (Japan, China, Hong Kong, Malaysia, Singapore and India). Because of the high number of respondents surveyed and their deep experience in each market, Hays is able to make a series of accurate predictions for the year to come, thus helping clients in planning their recruitment activities.
Speaker Bio
Christian Lepolard
Christian Lepolard currently works as Business Director for Hays in China and supervises their office in Suzhou, Jiangsu province. Before that, he was acting as Country Manager Russia for Spengler Fox, an Irish executive search company, focusing on the Consumer Good sector (FMCG, retail). Prior to that, he was one of the Partners at Antal Russia, a British mid to senior level recruitment business and supervised different teams (including sales & marketing, logistics, accountancy & finance and legal). He started his career in HR with Siemens in Germany.
Christian holds a dual diploma (Political Sciences and Law in France, Business Administration in Germany) and speaks English, Russian and German besides his native French.
Topic two: Foreign Workforce Movement in the Context of China Immigration Updates
As China has introduced many new policies nationally and locally to attract foreign talents, Becky would like to brief about the recent immigration policies in China, and share her insights on implications of such policies on employers and foreign employees, based on Fragomen's proven experiences and observations of our wider client base.

Speaker Bio
Becky Xia, Partner, Fragomen (Shanghai) Co. Ltd.

Becky is responsible for the firm's China practice, supervising a team handling inbound visas and work permits. As the leading expert in the increasingly complex area of China immigration, she specializes in assisting multinational corporations, financial institutions, and other global employers with employment-based immigration and investor visas.
Becky also advises clients on immigration related compliance as well as strategies for the transfer of expatriate workforce into China and throughout the country. Becky has been listed in the International Who's Who of Corporate Immigration Lawyers from 2011 to 2017.
*Fapiao: Please fill out the fapiao info form here: https://www.lediaocha.com/pc/s/5hsrdg. Please note that reception of the fapiao may take up to 7 working days after the event.
Cancellation Policy
Please note that if you need to cancel this booking we must receive your RSVP cancellation by email or fax no less than 48 hours in advance of an event, unless another specific cancellation date/time is notified in the event details. The Chamber will have to charge you full-price for the event if you do not cancel your attendance by the stated time. This is necessary to cover costs automatically incurred by AustCham Shanghai for events on registered attendees' behalf.