Melbourne Launch Event – 2019 Westpac Australia-China Business Sentiment Survey
Join us in Melbourne for a discussion with AustCham Shanghai CEO Jack Brady and a panel of experts on the latest trends, opportunities, and risks impacting Australia-China business relations.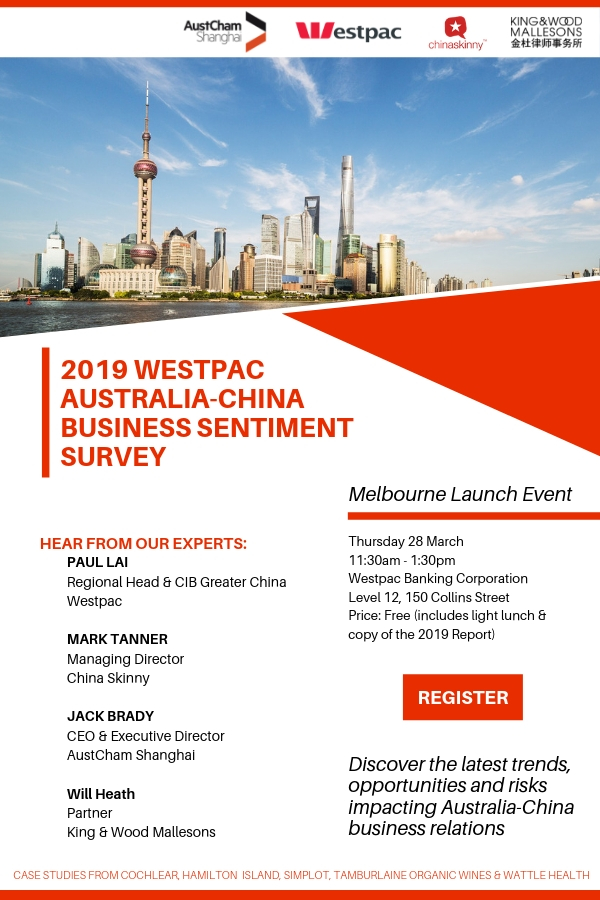 In partnership with Westpac, AustCham Shanghai has surveyed 211 Australian businesses to better understand the current Australia-China business sentiment.

To showcase the results of the 2019 Westpac Australia-China Business Sentiment Survey, this presentation will highlight the following key findings:

The short and long-term outlook for Australian businesses, the differences in industry outlooks and the perceived reasons behind this,
The revenue and investment trends experienced by Australian businesses in China,
Some of the biggest challenges and risks hindering Australian business growth in China, and
Key insights from featured case study companies that have successfully adapted to the Chinese market: Cochlear, Hamilton Island, Simplot, Tamburlaine Organic Wines and Wattle Health.
All attendees will receive a full copy of the 2019 Westpac Australia-China Sentiment Survey Report.

Please register online here or contact Stephanie Smith with any inquiries.
Speakers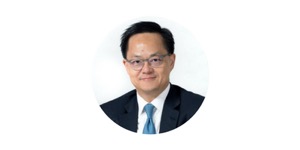 Paul Lai
Regional Head & CIB Greater China, Westpac
Paul is an experienced Senior Managing Director with a demonstrated history of working in the banking industry. Skilled in Portfolio Management, Banking, Corporate Finance, Credit Analysis, and Strategic Planning. Strong finance professional with a Master of Business Administration (M.B.A.) focused in Banking, Corporate, Finance, and Securities Law from Pepperdine University, The George L. Graziadio School of Business and Management.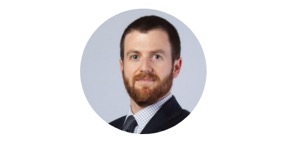 Jack Brady
CEO and Executive Director, AustCham Shanghai
Jack Brady is the CEO and Executive Director of AustCham Shanghai. Jack leads a team of staff across four departments and drives the Chamber's mission to strengthen Australia-China business, government and community relationships. Jack is an Executive Director of the AustCham Shanghai Board of Directors and is responsible for the overall management of the Chamber including financial and human resource management.
Jack was previously the General Manager of the Chamber. Prior to joining AustCham Shanghai, Jack worked in Sydney with government relations and corporate communications firm GRACosway as the National Research and Policy Manager. Jack holds a Bachelor of Arts (First Class Honours) from The University of Sydney.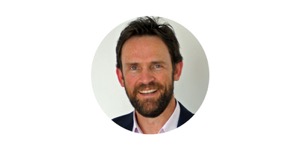 Mark Tanner
Managing Director, China Skinny
Mark has provided China market growth strategies and research to over 150 brands including Tourism Australia, Colgate, Reckitt Benckiser, IKEA, SAIC Motors, Sun-Maid Raisins and a host of Australian brands from large multinationals to small family-run businesses. His views on China have been quoted by over 200 international media including Bloomberg, Reuters, FT and Forbes where he is a columnist. He authors the most-read newsletter about marketing to China.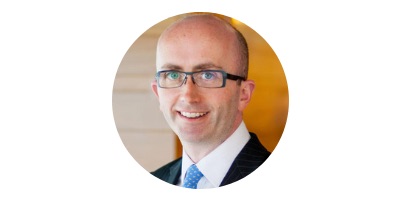 Will Heath
Partner, King & Wood Mallesons

Will is a partner in KWM's Melbourne Mergers & Acquisitions team. He focuses on public and private M&A, joint ventures, capital raisings and corporate advisory work.
Will has significant experience on complex cross-border M&A in a wide range of sectors. In 2018, he worked with Shenzhen-listed By Health on its $700 million acquisition of Life Space Group and with APA on its response to a $13 billion proposal from the CK consortium. Additionally, Will lived in Tokyo from 2010 to 2013, where he worked with Japanese, Chinese and multinational companies on their investments in the Asian region and beyond.
---
Attendance for this event is complimentary and includes a light lunch. Spaces are limited.

Please register online here or contact Stephanie Smith with any inquiries.