IBSS XJTLU Evening Seminars
The International Business School Suzhou (IBSS) @ Xi'an Jiaotong-Liverpool University (XJTLU) invites you to attend a series of regular evening seminars hosted by The Suzhou Executive Academy (SEA) on topics relevant to doing business, working and studying in China.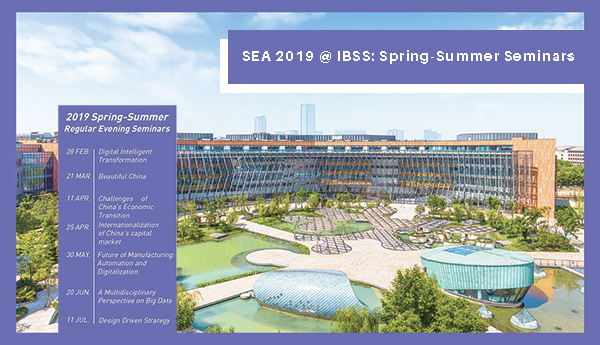 China's multifaceted economy combined with a complex and changeable regulatory environment is a mix of both opportunities and challenges for those who are doing business, working and studying in China. Thus, the SEA's mission is to seek out and to debate the most pressing and relevant business, economic and social issues nationally and internationally. Then, combine all of this with the latest academic points of view (created through in-depth knowledge and research) and the practical know-how of key individuals from public and leading private organisations.

The SEA is organized in regular evening seminars – one every three to four weeks from 6pm to 8:30pm - during which a topic is presented and debated among the participants in a friendly academic environment which allows managers and entrepreneurs to meet peers representing different industries in an open platform created to debate and discuss together common points of interest.
Here at IBSS, we are constantly looking for experts in new and exciting topics; people with enthusiasm and passion for sharing their knowledge. If that is you, or if you have a topic which you think would benefit the SEA, please get in touch with our Business Engagement Team.
The SEA aims to become the focal point of the business community of Suzhou and the Yangtze River Delta region!
Seminar Calendar
28 February - Digital Intelligent Transformation
21 March - Beautiful China

11 April - Challenges of China's Economic Transition
25 April - Internationalisation of China's capital market.
(In cooperation with the Hong Kong Stock Exchange in Shenzhen)

30 May - Future of Manufacturing: Automation and Digitalizatio

20 June - A Multidisciplinary Perspective on Big Data

11 July - Design Driven Strategy


If you want to take part in the SEA 2019 @ IBSS: Spring-Summer Seminars' Registration Package please either follow the link here or the QR code below to register to join.
Finally, if anyone has any questions or queries about any of these events or anything related to them you are welcome to get in touch with either Nicole Yang or Douglas Shearer.
About SEA
SEA is a unique education platform created by IBSS at XJTLU for business leaders in the Yangtze River Delta region which brings together a community of like-minded business and academic professionals and offer a global insight into a variety of business issues, as well as the unique access to a high-level executive network.