How to Deal with Money Laundering, Sanctions Enforcement and Compliance in China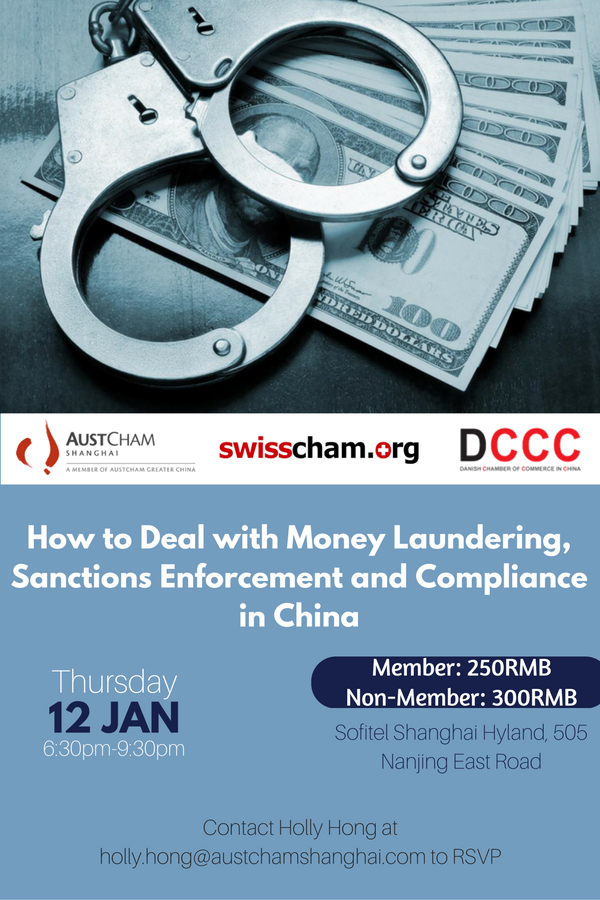 The financial services industry is facing increasing amount of pressure from regulators. While the market remains unstable, money laundering and sanctions enforcement and fines have been astronomical. What does this mean for foreign banks and foreign companies operating in China and how should they manage these risks?
AustCham Shanghai, SwissCham Shanghai and the Danish Chamber of Commerce welcome Ernst and Young's Fraud Investigation & Dispute Services experts to discuss the challenges facing foreign companies, banks and financial institutions and demonstrate how to utilise technology and data analytics to detect and prevent money laundering in China.
Agenda:
18:30 - 19:00: Registration
19:00 - 20:30 Presentations
20:30 - 21:30: Dinner and networking

Speakers:

Manhim Yu, Partner, Ernst & Young
Manhim is a Partner with the Fraud Investigation & Dispute Services at Ernst & Young with over 18 years of experience focusing on financial crime investigations, look-backs, and regulatory inquiries related to AML, sanctions, and anti-bribery and corruption (ABAC) matters. He has assisted financial services clients to perform comprehensive AML risk assessments and develop Anti-Fraud risk management frameworks, establish AML compliance programs and governance structures, establish and develop transaction monitoring capabilities. Prior to EY, Manhim had worked for different global banks including Citibank, Deutsche Bank, RBS and ABN Amro Bank in various regional capacities of AML Compliance, Anti-Fraud Unit and Corporate Investigations. He is a former law enforcement officer with the Independent Commission Against Corruption Hong Kong (ICAC) with extensive experience in criminal investigation in corruption, fraud, organized crime and money laundering.
Lynn Na Li, Head of the Financial Crime Compliance, Standard Chartered Bank (China) Ltd
Ms. Li has over 15 years' of compliance experience in foreign banks. This includes responsibiliy for country regulatory, ethics, and sanctions compliance management and implementation of anti-money laundering controls and management of KYC & transaction surveillance, and anti-fraud surveillance. Since 2008, Ms. Li has been recognized with the AML Advanced Specialist Reward issued by the PBOC every year. Ms. Li holds an MBA from the Chinese University of Electronics, Science and Technology.
Cheng Chen, lic. iur., PRC Lawyer of Counsel, Kellerhals Carrard

Mr. Cheng Chen is Kellerhals Carrard's of counsel in China. He graduated from Universities of Fribourg (CH) and Tongji University (Shanghai), is admitted to the Shanghai bar and is fluent in Chinese, English and German. He and his local team regularly advise Swiss, German and Austrian companies doing business in China as well Chinese companies and entrepreneurs investing in Europe, in particular in Switzerland. Both European and Chinese clients can benefit from his cross-cultural and interlingual expertise in the different jurisdictions.
Please contact Holly Hong to RSVP.
*Fapiao: Please note that reception of the fapiao may take up to 7 working days after the event.
Cancellation Policy
Please note that if you need to cancel this booking we must receive your RSVP cancellation by email or fax no less than 48 hours in advance of an event, unless another specific cancellation date/time is notified in the event details. The Chamber will have to charge you full-price for the event if you do not cancel your attendance by the stated time. This is necessary to cover costs automatically incurred by AustCham Shanghai for events on registered attendees' behalf.
Please note that if eligible for a refund, you will receive the full amount minus a 1% transaction fee.