Food for Thought - Tapping Into China's F&B Market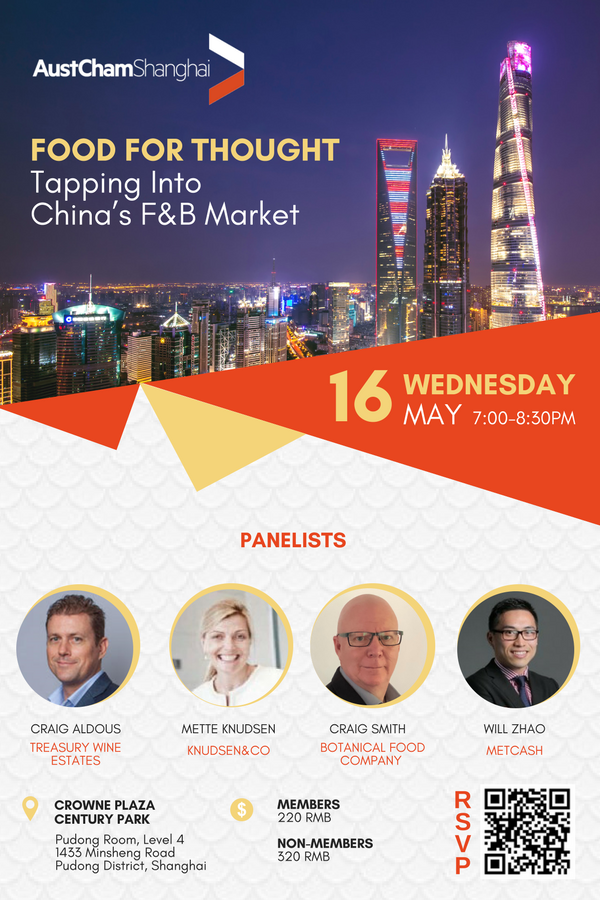 With over 300 million middle-class citizens (and rising steadily) who are increasingly seeking clean, green, and healthy products, China is the largest importer of Food & Beverage (F&B) in the world. Australia is China's 6th largest supplier, and demand for Australian F&B is at an all-time high. Australian products are already highly regarded by Chinese consumers, and Australian industries well-placed to meet these needs, but many challenges still remain within this booming market.
AustCham Shanghai is pleased to host a panel of F&B experts that will discuss how Australian businesses can navigate the pitfalls and grasp the opportunities in China's F&B market in the lead up to one of the biggest food innovation exhibitions in the world, SIAL.
Join our panellists as they share their expert insights and experience on e-commerce, market access, distribution channels, and branding in China.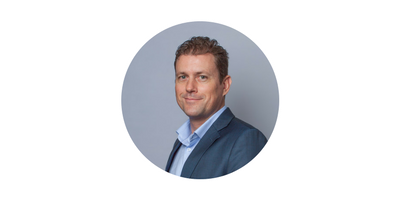 Craig Aldous - Commercial Director, North Asia at Treasury Wine Estates
Craig first came to China in 1992 on a Griffith University language scholarship and for the past 23 years has been leading Companies in the food, beverage and agriculture sectors in both Australia and China.

For the last 10 years Craig was the Chief Executive Officer in China and Vietnam for Australian agribusiness, Elders, directly reporting to the Parent Company CEO and a subsidiary Board of Directors. During this period he transformed the Elders operations in China into a profitable Foodservice distribution business, and covered product segments including beef, lamb, wine, beer, seafood and dairy.

He joined Treasury Wine Estates in early 2018 as Commercial Director for North Asia - a region that includes Greater China, Korea, Japan and Vietnam.

He has been a non-executive Director of the Australian Chamber of Commerce in Shanghai since 2012 and has been the Chairman of the Board since July, 2016.

Mette Knudsen
Mette Knudsen is managing the Government Affairs and Certification teams at Knudsen&Co, Shanghai. Mette holds a PhD. in International Trade and Government Regulations. During the last decade, Mette has been involved in more than 200 foreign companies establishment of import into and sales on the Chinese market. Knudsen&Co assists with all aspects of retail sales, m-commerce, e-commerce, and distributor sales in China. In addition, Knudsen&Co provides certification solutions within health food, cosmetics, & skin-care – and offers advice on import regulations in China on general goods, infant food, pet-food, wine and alcohol.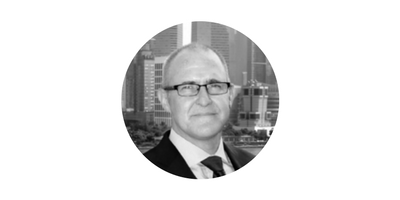 James O'Loughlin (Moderator)
James O'Loughlin is the former CEO of the Australian Chamber of Commerce in Shanghai (Austcham). James has a unique position from which to observe and advise on Australian commercial activity in China and led the Chamber through a period of unprecedented growth placing the membership and profile second only to the US Chamber in China.

Prior to his time in China, James launched Indesign Magazine and developed it into the leading design and architectural publication in Australia.

James has a Bachelor of Business majoring in Marketing from the Queensland Institute of Technology (now known as Queensland University of Technology) and has studied at Jiao Tong University Shanghai.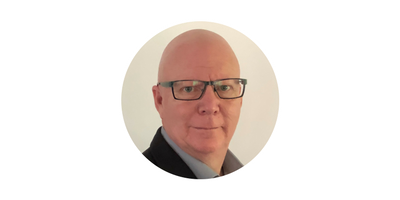 Craig Smith
Craig Smith started his retail career with an Independent retailer in Western Canada in 1980.Moving to Australia in 1984 as a Trainee Manager with Woolworths Supermarkets, progressing through several stores and management positions, including Store Manager.Craig has worked with many FMCG companies such as Mauri Grocery (Burns Philp), CC Hamilton, Berri Ltd and Botanical Food Company in domestic business management positions as well as export management roles.
In 2002 Craig managed the export of Gourmet Garden Herbs and Spices into the North American market which become the most widely distributed branded Australian product in US produce departments. Craig went on to move to Canada in 2008 managing the Canadian and North-eastern US as well as Food service and Industrial channels included.
Returning to Australia in 2012 Craig continued to complete the tasks he was doing in the North American market as well as commercialising a new product concept into the North American from Australia. Craig's latest role is developing the Asian markets with a focus on China, South Korea and Japan.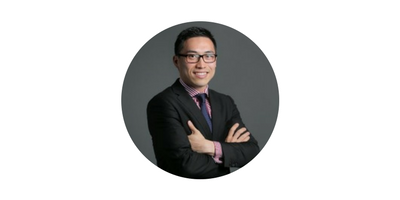 Will Zhao
Will Zhao is the Head of Metcash Asia based in Shanghai. Will leads a team of staff driving strategic and commercial decisions for Metcash Asia for their online cross-border business and the offline wholesale/distribution business. Will is a leading authority on China market entry and have spoken at many conferences on doing business in China for online and offline.
Prior to joining Metcash, Will spent 7 years with the Goodman Group in Australia, New Zealand, Hong Kong and China specialising in Risk Management. Will also held roles with Deloitte, UBS and Moores Rowland in risk and strategic consulting, wealth management, tax and accounting.
He holds a Bachelor of Commerce from Macquarie University and is a certified internal audit and risk management professional. He is fluent in Mandarin, Shanghainese and English.
*Fapiao: Please fill out the fapiao info form here: https://www.lediaocha.com/pc/s/5hsrdg. Please note that reception of the fapiao may take up to 7 working days after the event.
Cancellation Policy Please note that if you need to cancel this booking we must receive your RSVP cancellation by email or fax no less than 48 hours in advance of an event, unless another specific cancellation date/time is notified in the event details. The Chamber will have to charge you full-price for the event if you do not cancel your attendance by the stated time. This is necessary to cover costs automatically incurred by AustCham Shanghai for events on registered attendees' behalf.