Food for Thought - Tapping Into China's F&B Market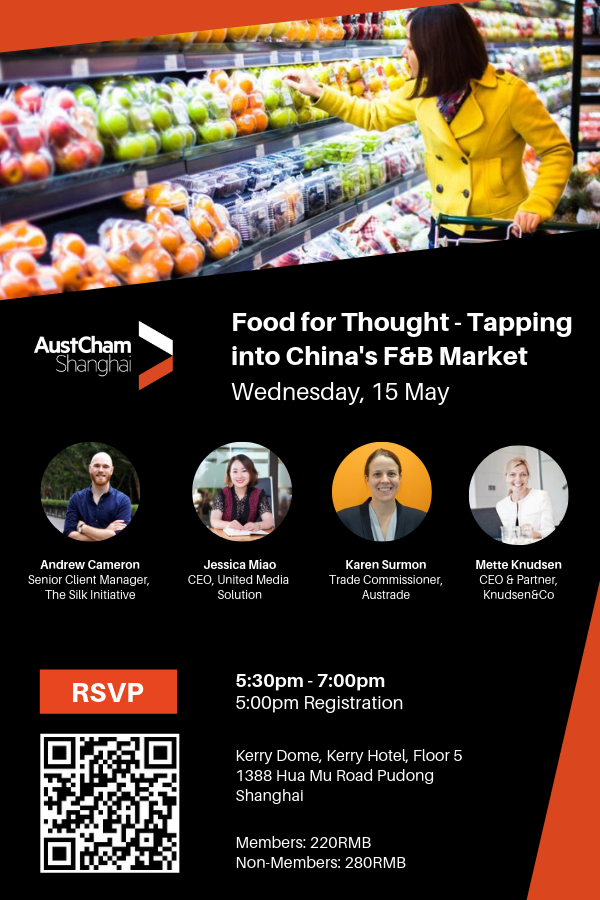 With over 300 million middle-class citizens (and rising steadily) who are increasingly seeking clean, green, and healthy products, China is the largest importer of Food & Beverage (F&B) in the world. Australia is China's 6th largest supplier, and demand for Australian F&B is at an all-time high. Australian products are already highly regarded by Chinese consumers, and Australian industries well-placed to meet these needs, but many challenges still remain within this booming market.

AustCham Shanghai is pleased to host a panel of F&B experts that will discuss how Australian businesses can navigate the pitfalls and grasp the opportunities in China's F&B market in the lead up to one of the biggestfood innovation exhibitions in the world, SIAL.
Join our panellists as they share their expert insights and experience on e-commerce, market access, distribution channels, and branding in China.
---
Speakers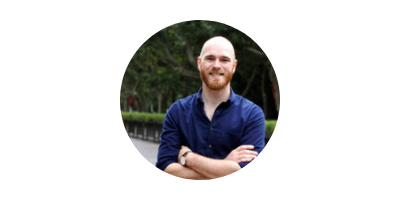 Andrew Cameron
Senior Client Manager, The Silk Initiative

Andrew is a Senior Client Manager at the The Silk Initiative (TSI), an Asia-based brand insight, strategy, and innovation consulting firm specialising in food and beverage.
With a deep understanding of Chinese consumers, Andrew has worked across a range of strategic branding engagements with global giants such as Unilever, Kellogg's and Sanofi, as well as leading Australian F&B businesses like Blackmores, SunRice, Swisse, Lion, and Peters Ice Cream. Armed with the perfect combination of insight, strategy, innovation, and design, Andrew and his team take a holistic approach with every engagement to ensure that your brand will thrive.

---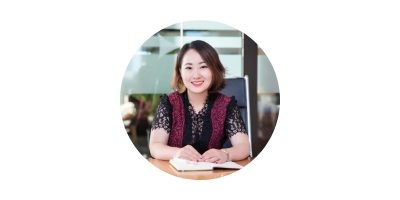 Jessica Miao

CEO, United Media Solution (UMS)


A Chinese national, Jessica studied and worked in media in New Zealand before returning to China and launching the digital marketing agency UMS. Since then Jessica has helped foreign businesses to navigate China's complex digital landscape and has expanded the business into New Zealand and Australia. Jessica has more than 10 years experience in digital marketing and has built a strong reputation as an expert on marketing in China.

Meanwhile Jessica has been honoured with a number of awards including; Young Entrepreneur Award, granted by Yinzhou Government in 2012, and Young Entrepreneurs of the Year, granted by Ningbo Government in both 2013 and 2014. In 2013 Ningbo Excellent Oversea Talent Award and in 2014 she was also honoured with the Young Entrepreneurs of the Year, granted by Ningbo China. In 2017, Jessica was named one of the Top 100 Innovative Women in China's Zhejiang region.
---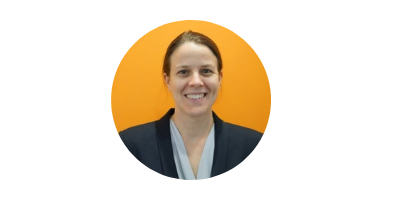 Karen Surmon

Trade Commissioner, Austrade
Karen moved to Shanghai as Trade Commissioner with the Australian Trade and Investment Commission (Austrade) in August 2014. She has worked in a number of national industry lead roles including Infrastructure, Advanced Manufacturing and Innovation, and is currently national lead for the Food, Beverage & Consumer team. Prior to relocating to China, Karen was Austrade's State Director for South Australia.
Karen has spent over twelve years living and working in China and Singapore. Previous positions include Brand and Communications Manager with China's largest wine importer and distributor, and Associate with Beijing Consulting Group, where she was co-founder of the Australia China Alumni Association.
---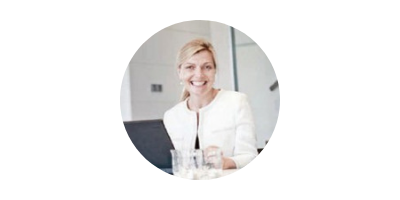 Mette Knudsen
CEO & Partner, Knudsen&Co, Shanghai
Mette Knudsen is managing the Government Affairs and Certification teams at Knudsen&Co, Shanghai. Mette holds a PhD. in International Trade and Government Regulations. During the last decade, Mette has been involved in more than 200 foreign companies establishment of import into and sales on the Chinese market. Knudsen&Co assists with all aspects of retail sales, m-commerce, e-commerce, and distributor sales in China. In addition, Knudsen&Co provides certification solutions within health food, cosmetics, & skin-care – and offers advice on import regulations in China on general goods, infant food, pet-food, wine and alcohol.
---
*Fapiao: Please fill out the fapiao info form here: https://www.lediaocha.com/pc/s/5hsrdg. Please note that reception of the fapiao may take up to 7 working days after the event.
Cancellation Policy Please note that if you need to cancel this booking we must receive your RSVP cancellation by email or fax no less than 48 hours in advance of an event, unless another specific cancellation date/time is notified in the event details. The Chamber will have to charge you full-price for the event if you do not cancel your attendance by the stated time. This is necessary to cover costs automatically incurred by AustCham Shanghai for events on registered attendees' behalf.