FBA Industry Roundtable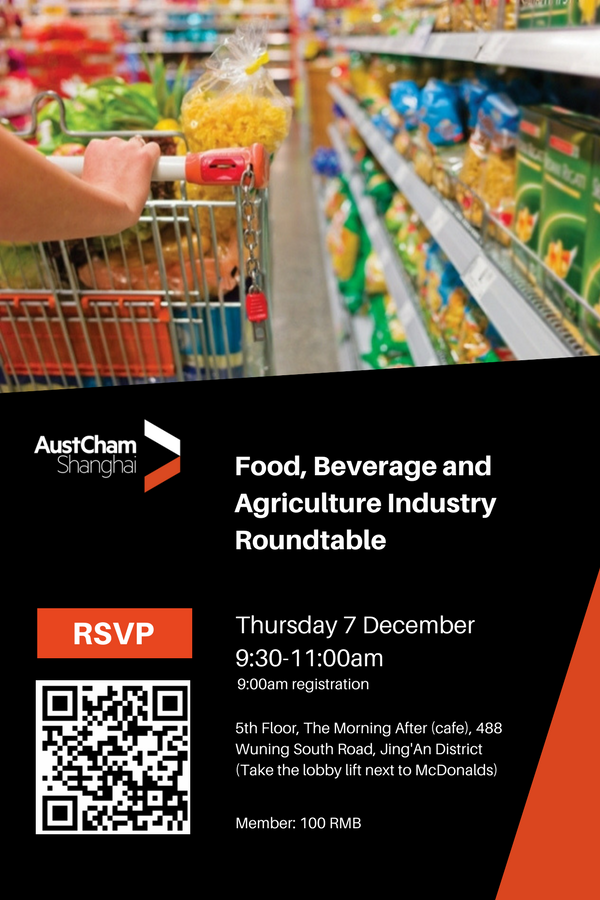 The AustCham Shanghai Food, Beverage and Agriculture Forum invites FBA industry members to join them for a roundtable discussion about the current issues and trends impacting the industry. The roundtable discussion will be led by short presentations from various industry experts, covering technical issues impacting FBA providers such as non-tariff barriers, packaging and labelling laws, and the recent access issues for Australian beef providers. FBA industry members will be encouraged to participate in an open discussion during this roundtable.

Seating at this event will be limited, please scan the QR code in the flyer above to secure your seat.
*Fapiao: Please fill out the fapiao info form here: https://www.lediaocha.com/pc/s/5hsrdg. Please note that reception of the fapiao may take up to 7 working days after the event.
Cancellation Policy
Please note that if you need to cancel this booking we must receive your RSVP cancellation by email or fax no less than 48 hours in advance of an event, unless another specific cancellation date/time is notified in the event details. The Chamber will have to charge you full-price for the event if you do not cancel your attendance by the stated time. This is necessary to cover costs automatically incurred by AustCham Shanghai for events on registered attendees' behalf.