Exclusive Lunch with NAB Group Chief Economist Alan Oster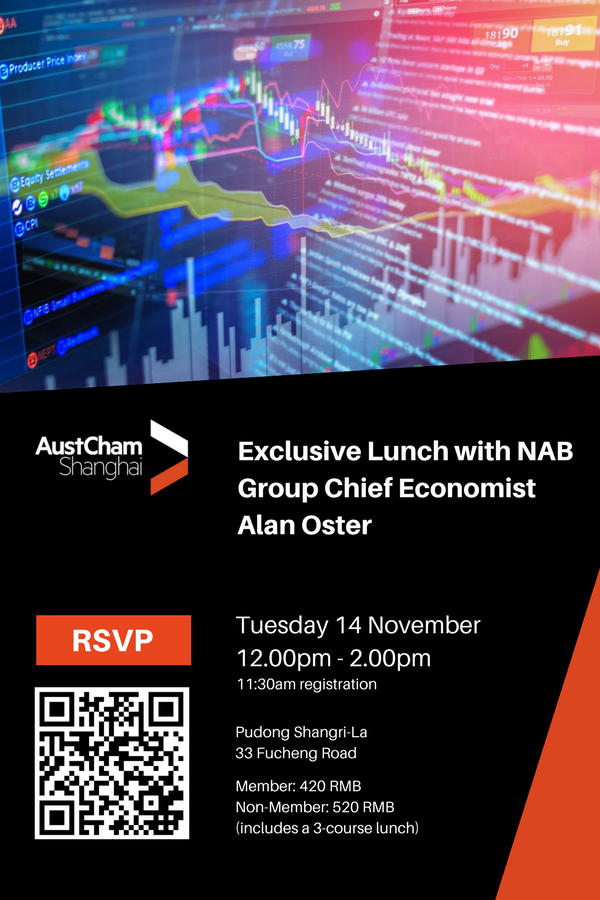 National Australia Bank would like to invite you to join Alan Oster, NAB Group Chief Economist, along with Christy Tan, NAB Head of Markets Strategy and Research Asia for an exclusive lunch on Tuesday 14 November 2017.
The team will share the latest insights and trends across:
Global/AU/NZ Macro environment
The global geopolitical landscape and how this is impacting Australia and New Zealand including rates, currency movements and macro indicators
NAB's proprietary indicators on the retail sector, consumption, postcode, business confidence and bad debts
Australia's outlook across sectors, particularly infrastructure, commodities, agribusiness and property
Australia and New Zealand FX markets
China Macro update

Latest on China's economic data, RMB internationalisation, and current forecasts
Key takeaways from the 19th National Congress of the Communist Party of China
*Fapiao: Please fill out the fapiao info form here: https://www.lediaocha.com/pc/s/5hsrdg. Please note that reception of the fapiao may take up to 7 working days after the event.
Cancellation Policy
Please note that if you need to cancel this booking we must receive your RSVP cancellation by email or fax no less than 48 hours in advance of an event, unless another specific cancellation date/time is notified in the event details. The Chamber will have to charge you full-price for the event if you do not cancel your attendance by the stated time. This is necessary to cover costs automatically incurred by AustCham Shanghai for events on registered attendees' behalf.