Environmental Protection Regulatory and Policy Trends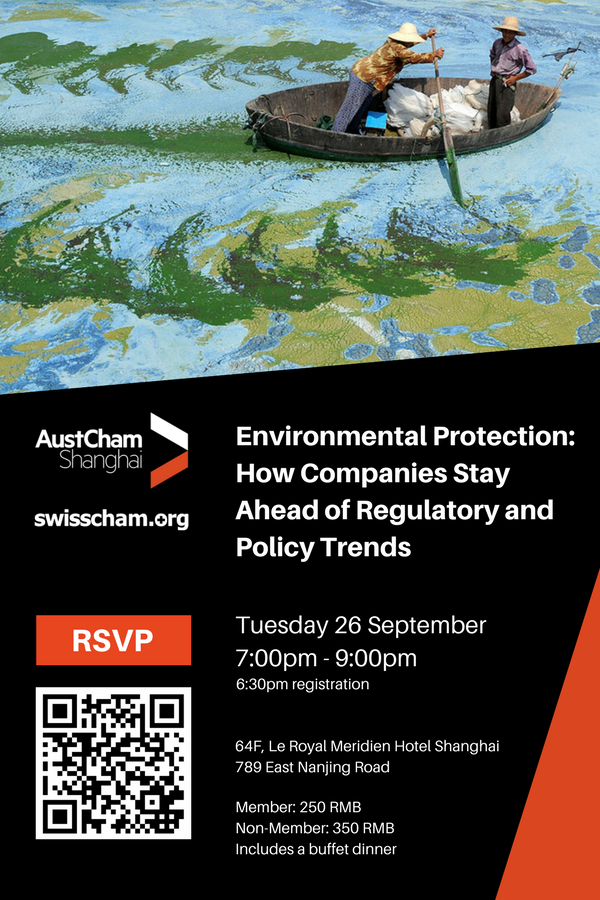 Environmental enforcement is intensifying, increasing operating costs and disrupting operations. This is happening in a context characterized by rising professionalism, effective information sharing and their strong commitment to environmental protection.
The rules and regulations are evolving at a steady pace and enforcement is tightening. In addition to the new environmental tax coming into effect in 2018, central and local authorities are continuously introducing or amending measures covering range of concerns, including emissions, waste disposal, fees, reporting and disclosure.
To get practical insights, we have partnered with SwissCham Shanghai to let you hear from prominent speakers from Firmenich and Novartis. In their presentations, these multinational companies will present their approach and explain how they deal with these changes.
In the second part of the evening, we are having a panel discussion to further discuss the topic and see how businesses can get in front and stay ahead of environmental policy, regulatory and enforcement trends. To help you prepare and mitigate risk exposure, our expert panel will discuss:
-What is changing: The rules, the fees, the players, the financial and operational exposure of your business
-Why are things changing: New generations of leadership and regulatory professionals, strong consensus on urgent need
-Who are the significant actors: More enforcers, changing KPIs, rise of social media and instant reporting, and increasingly vocal complaints
-How to prepare: Know your local authorities, understand your sector, assess your real risk
-How to stay ahead: Government engagement, proactive communications, community engagement, associations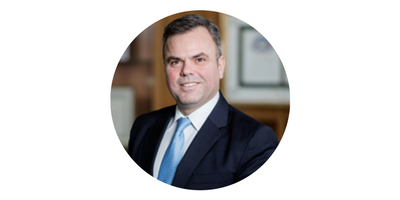 Olegario Monegal | President Firmenich China
Olegario Monegal was appointed as Firmenich President China as of July 1, 2017 responsible for the China market P&L. He joined in Firmenich in 1998 and played many key different high-level roles in the Perfumery division, in France, Latin America, North America and the Headquarters in Geneva.
His last position was Vice President of Creation Development and Innovation with global responsibility on perfumers, fragrance development, marketing, consumer insights and applied technology. Prior to joining Firmenich, he worked for Deloitte and Touche in the Corporate Finance area. Olegario is a Spanish citizen and he obtained a MBA degree from ESADE Business School in Barcelona.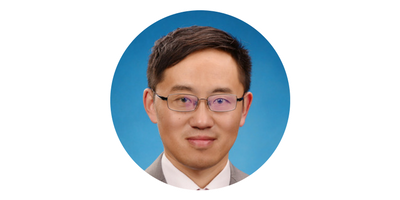 Felix Ding | Head of Health, Safety, Environmental & Business Continuity Management (HSE & BCM) Campus Shanghai and Commercial Operation China, Novartis
Before Novartis, Felix was at Solenic to lead the Asia Pacific Environmental, Health, Safety (EHS) & Product Regulatory function. He also served for nine years as Greater China HSEQ Head at Lanxess Chemical. Felix graduated from Wuhan University with a Master in Environmental Law and obtained his Environmental Engineering Bachelor from East China University of Science & Technology. He is a Certified Safety Engineer and was invited to present National People Congress environmental legislation and participated in safety legislation program organized by State Administration of Work Safety.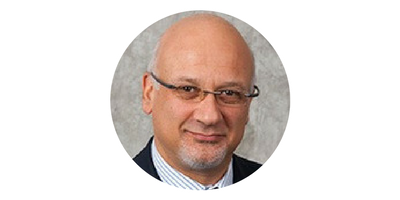 Peter Corne| Managing Partner, Shanghai, Dorsey & Whitney LLP
Peter has been involved in helping foreign companies identify and implement renewable energy and cleantech projects in the China market since 2003. He has developed a robust clean technology and renewable energy practice in China focusing on carbon credit generation and trading, M&A, greenfield projects and collaborations with Chinese parties. He has implemented projects in the solar, electric vehicle, energy storage, biofuel, wind, water treatment, carbon capture and reutilization, cleaner coal, geothermal, soil restoration, and energy efficiency sectors in China.
Julia Coym - Senior China and North-East Asia Analyst
Julia Coym is a senior analyst in Control Risks' Global Risk Analysis practice, based in Shanghai and consulting on regulatory, political, and security issues in China and North-East Asia. Julia has worked on numerous projects advising clients on how to respond to intensifying regulatory enforcement on environmental, anti-competition and anti-corruption issues. In addition to working on bespoke consulting projects and stakeholder mappings, Julia is a regular contributor to Control Risks' Country Risk Forecast (CRF) and PRIME services.
*Fapiao: If you have not provided your company's fapiao details to us, please fill out the fapiao info form here: https://www.lediaocha.com/pc/s/jrctpl. Otherwise, please email chenyu.ling@austchamshanghai.com to request a fapiao. Please note that reception of the fapiao may take up to 7 working days after the event.
Cancellation Policy
Please note that if you need to cancel this booking we must receive your RSVP cancellation by email or fax no less than 48 hours in advance of an event, unless another specific cancellation date/time is notified in the event details. The Chamber will have to charge you full-price for the event if you do not cancel your attendance by the stated time. This is necessary to cover costs automatically incurred by AustCham Shanghai for events on registered attendees' behalf.