Elee Logistics Delegation
Take advantage of a unique opportunity to visit a leading logistics company helping brands succeed with their operations in China, Elee Logistics.
Elee Logistics is first and foremost a logistics company helping brands succeed with their operations in China.
For more than 25 years, Elee Logistics has served a broad variety of clients that deal with everything from food and beverage to fashion and white goods. Our customers include everything from F&B businesses like Carrefour and Duvel to fashion brands such as G-Star and 6ixty8ight as well as companies in the fitting and white goods industry such as Hettich and Hansgrohe.

For brands that are new to the Chinese Market Elee Logistics offers a model where they can test their sales in China using the Elee license. The benefits of using Elee's license to operate in China make brands focus on their sales strategy in China instead of using time and money on the bureaucratic hassle of establishing a legal entity (WFOE or JV) before even knowing the market and their performance of their sales in China.
Join us as we visit one of five best-in-class Elee Logistics Warehouses in China, in Songjiang District.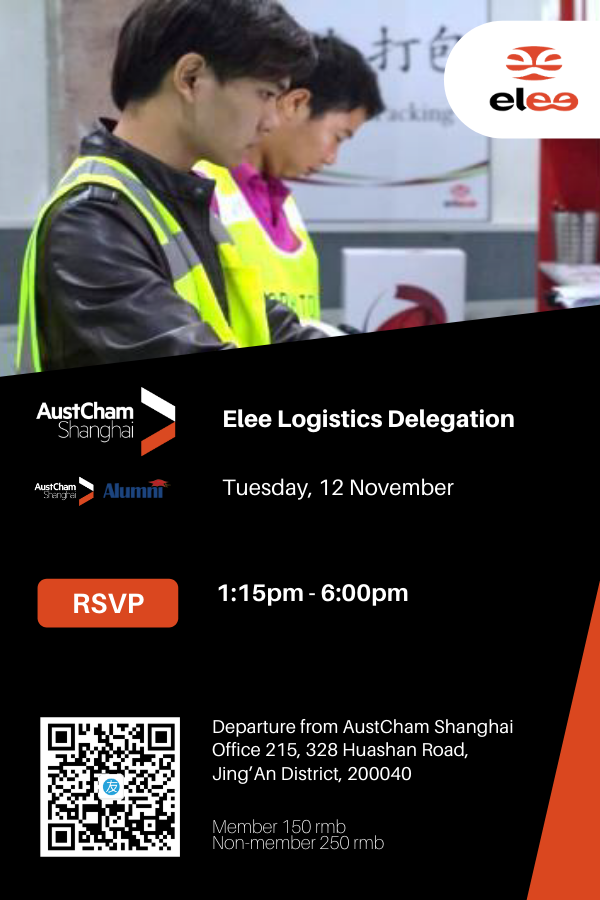 Learn more about Elee Logistics and the services they provide:
---
Agenda
1:30 PM Registration
2:00PM Bus Departs AustCham Office
3:00PM Arrive at Elee Logistics
3:00PM Welcome speech by Sebastian Kinegaard – BD Executive at Elee Logistics (15 Min)
3:15PM Company presentation by Jean-Pierre Roquet – CEO & Founder of Elee Logistics(30 Min)
3:45 Elee License model – How to use Elee's license to sell YOUR products in China to test the market before fully diving in – by Sebastian and Jean-Pierre (30 Min)
4:15PM Warehouse visit, divided into 2 groups – led by Sebastian Kinegaard & Jean-Pierre (60 Min)
5:30PM Bus departs from Elee Logistics
6:30PM Bus arrives at Julu 158
---
PLEASE NOTE:
Dress code for site visit: Long Sleeves, Fully covered shoes, no dress or high heels. Bring warm clothes if it's a cold day as the warehouse has big gates open to the outside and temperatures in the warehouse follow the day's weather conditions.