Effectively Present to a Chinese Audience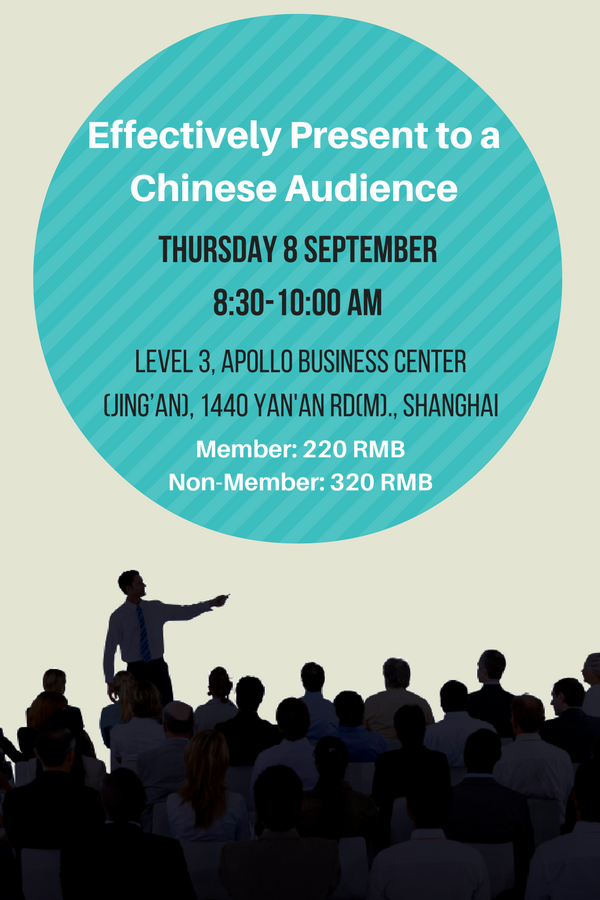 Presenting to a Chinese audience in English can be a challenge for both the audience and the speaker. Very often, the audience will leave without a clear understanding of what was actually covered and the speaker will have no idea why the audience didn't understand what was said. After all, you spoke slowly and simply and they all said the spoke English, right?
Unfortunately, it's not as simple as that and it takes much more to be an effective communicator to those who don't speak English as a first language.
In this entertaining and engaging presentation, Lee Feather by will show you 10 powerful ways to improve not only your presentation skills to those for whom English is a second language, but also your written and oral communications as well.
In this session you will learn:
How and where to modify your presentation so your message is understood.
What you need to do with your presentation technique so your audience pays attention.
Pitfalls to avoid so you don't leave a bad impression.
BUY TICKETS NOW
AustCham Shanghai has partnered with O-Tix, an Australian event ticketing platform that allows you to buy your tickets directly from our website (below) using Alipay and WeChat Pay.
Use the drop down form below, starting by selecting the number of tickets you want. Once you have bought your tickets you will receive a confirmation email with a PDF summarising your order.
If you would like to RSVP and pay with cash please email holly.hong@austchamshanghai.com
Lee Featherby, Managing Director, PowerfulPoints
Lee Featherby began working with presentations design over 30 years ago. In 2003, he has formed PowerfulPoints, specifically to address what he saw was a strong need for organisations to improve their presentations to match the changing audiences influenced by the internet and other emerging technologies.

Since then he has designed presentations for some of Australia's, and the world's, most prestigious companies…organisations like McDonalds, Visa, Coca Cola, GE and Microsoft. 7 of Australia's top 10 companies come to PowerfulPoints for help with their presentations for either presentation design or training.
Since starting PowerfulPoints, Lee has been involved with the development of presentations where the "at stake" was worth over $3 billion and mentored and coached numerous presenters to deliver powerfully and with authority in the most pressured situations.
Having worked with international audiences for the past 5 years, Lee has learnt the intricacies & challenges of presenting to an audience whose first language isn't English.
Cancellation Policy
Please note that if you need to cancel this booking we must receive your RSVP cancellation by email or fax no less than 48 hours in advance of an event, unless another specific cancellation date/time is notified in the event details. The Chamber will have to charge you full-price for the event if you do not cancel your attendance by the stated time. This is necessary to cover costs automatically incurred by AustCham Shanghai for events on registered attendees' behalf.
Please note that if eligible for a refund, you will receive the full amount minus a 1% transaction fee.