Breakfast Briefing with the Australian Consul General, Shanghai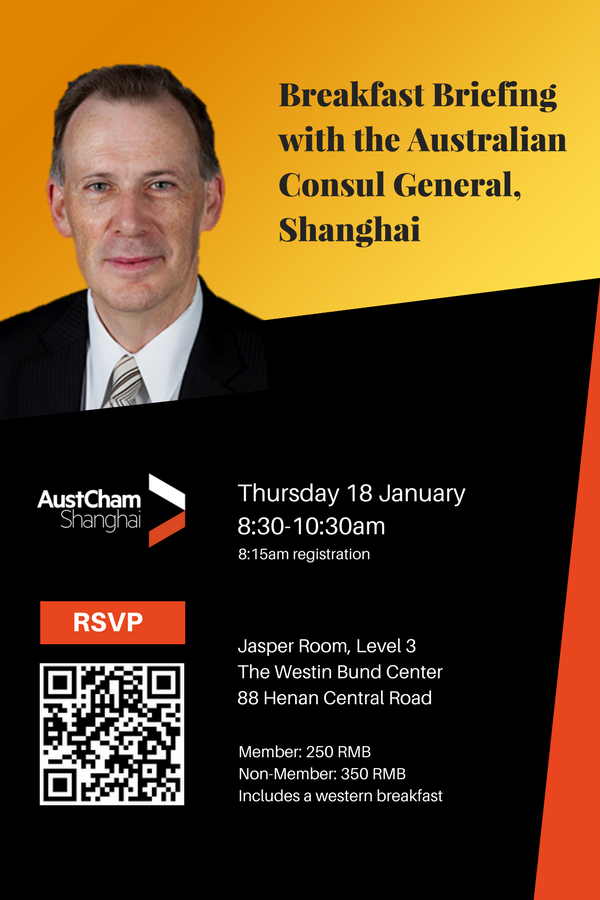 AustCham Shanghai is hosting an exclusive Breakfast Briefing with Mr Graeme Meehan, Australian Consul General in Shanghai, on Thursday 18 January at the Westin Bund Centre.
Mr Meehan is a senior career officer with the Department of Foreign Affairs and Trade (DFAT) and most recently was the Assistant Secretary of the East Asia Branch, from 2013-2015. He commenced in Shanghai, as Consul General, in June 2015. Mr Meehan has had extensive experience working on China issues, both in Canberra and overseas. On the day he will share his perspective on Australia-China relations this past year and what lies ahead for 2018.
There are limited seats available for this event, please register now to avoid disappointment.
*Fapiao: Please fill out the fapiao info form here: https://www.lediaocha.com/pc/s/5hsrdg. Please note that reception of the fapiao may take up to 7 working days after the event.
Cancellation Policy
Please note that if you need to cancel this booking we must receive your RSVP cancellation by email or fax no less than 48 hours in advance of an event, unless another specific cancellation date/time is notified in the event details. The Chamber will have to charge you full-price for the event if you do not cancel your attendance by the stated time. This is necessary to cover costs automatically incurred by AustCham Shanghai for events on registered attendees' behalf.