AustCham Shanghai Turns 25!
Join the Australian community in celebrating our 25th Anniversary at an extravagant cocktail evening at the Radisson Blu Plaza Xingguo Hotel.
---
AustCham Shanghai will be celebrating its 25th anniversary of operations this Thursday, 28 November 2019. Founded in Shanghai in 1994, long before the iconic Bund skyline was dazzling tourists and locals alike, AustCham Shanghai has had the pleasure of experiencing firsthand Shanghai's evolution into one of the world's most influential business cities. By some estimates, the population of Shanghai has grown by more than 15 million people in the last 25 years, to become arguably the world's largest city by population. It is estimated there is now 6,995 Australians living in Shanghai.
---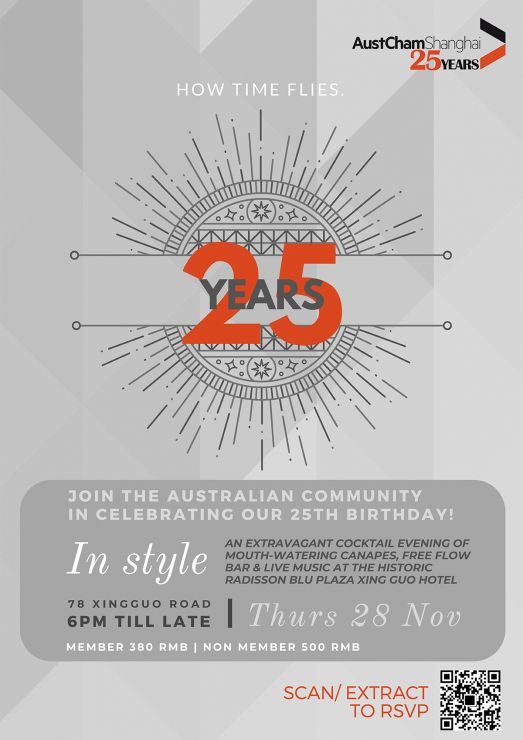 To share the invitation with friends and networks, see below:
---
AustCham Shanghai has grown along with Shanghai, to become the largest Australian Chamber of Commerce in the Greater China region. The Chamber now serves over 350 individual and business members, acting as a bridge between Australian and Chinese organisations, providing them with valuable support, education, advocacy and business services.
Through serving the interests of its members, including strategic initiatives such as the annual Westpac Australia-China Business Sentiment Survey, AustCham Shanghai has played a key role in promoting the Australia-China bilateral trade relationship over the last 25 years. This relationship has grown and flourished to the point where China is now Australia's largest two-way trading partner.

Going forward, the Chamber will continue to play a key role in the Australia China relationship. AustCham Shanghai is well placed to facilitate Australian businesses to assist China's transition to a service based and consumer driven economy. The growing diversification of AustCham Shanghai's membership base is reflective of this transition. We believe our role in the evolving nature of business in China is perhaps best typified by last week's opening of Australia House, the Chamber's new home and an innovatively designed hub for Australia- China businesses in Shanghai. As increasingly diverse Australian businesses look to enter the Chinese market, Australia House will act as a base for these organisations and entrepreneurs to realise success. You can read more about Australia House here.
---

---
The opening of Australia House is a show of faith in the future of the Australia China trade relationship and couldn't come at a better time as we approach 25 years of successful operations in Shanghai. We'll be holding a public opening for Australia House by AustCham Shanghai on Thursday, 28 November at 5pm. We invite you to come for a tour of the building, our member facilities and all that Australia House has to offer.
Please join us on Thursday, 28 November 2019 to celebrate both the opening of Australia House by AustCham Shanghai, followed by our 25th Anniversary at the Radisson Blu Plaza Xing Guo Hotel.
We're proud and excited to be celebrating a quarter century of achievement and we look forward to many more to come.